On 22nd October 2016, the Punk in the East (PITE) exhibition trail opened in the Norwich Lanes to coincide with the 40th anniversary of the release of the UK's first punk single, New Rose by The Damned.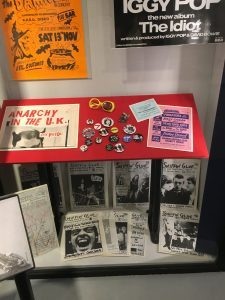 15 venues including shops, cafe bars, galleries and the Museum of Norwich showcased original clothing, local gig posters and tickets, records, fanzines, badges and hundreds of related photographs.  That evening Ruts DC played the PITE launch party to a sell-out crowd at Norwich Arts Centre.
Highlights of the trail included tickets, posters and press cuttings for the banned Sex Pistols gig (3/12/1976) at the University of East Anglia (UEA), large collections of Seditionaries and home made clothing, the illuminated sign from Norwich's first punk club, Peoples, and lots of great images from one of the UK's most revered gig venues, West Runton Pavillion on the North Norfolk coast.